I hope everyone had a good 4th of July.
Today I wanted to talk about solar water distillers. These are great if you have no other way of getting clean water. Maybe you only have access to ocean water. Or maybe you collect rainwater but have no way of filtering the water. Whatever the case, having a distiller is very handy. I have listed below three types, a purchased one, a nice homebuilt and a poor man's version.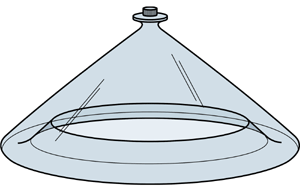 This type is called the water cone and can be found here:
http://www.watercone.com/product.html
You put it on top of the dirty fresh or salt water as seen in the above picture. There is a black pan that sits underneath. The water evaporates inside and condenses on the inside wall. It then drips down to the curved side tray area. You can then lift it out of the water carefully and open the top and pour out the fresh condensed water. You can also place this directly on top of dirty water without the black pan.
You can also use the cone upside down to collect rain water. They are 100% recyclable and should last for 5 years of daily use, giving about 1.5 liters per day of distilled water.
======================
Here is the one from El Paso Solar Energy Association.
http://www.txses.org/epsea/stills.html
(sorry, link doesn't work anymore)
This one is more permanent and can produce over 3 gallons of distilled water every day in the summer and about half that in the winter. With reflectors, you could bring that up. You could also just use more distillers to meet your demand.
======================
This one is a Poor Man's design using a cardboard box with a lid. The box has a black plastic bag or just black plastic inside it. There is a brick on the bottom for a glass to sit on. The lid has loose fitting clear plastic put in the cutout. A rock is put in the center of that to weigh it down. The dirty water is at the bottom no deeper than the brick height. This will help minimize the risk of contaminating your clean glass with dirty water. The dirty water evaporates and then condenses up on the clear plastic. The angle of the plastic makes the clean water drip down into the clean glass. This should be great for emergencies.
Richard